Diamondback Fitness 1060ef Reviews
With its award-winning engineering, the Diamondback Fitness 1060ef Elliptical offers the best low-impact cardio workout while allowing you to train in both the forward and backward direction.
Why Buy a Diamondback Fitness 1060ef Elliptical
The Diamondback Fitness 1060ef Elliptical offers a number of benefits that make it stand out from other elliptical machines on the market. Among these are:
Adjustable Stride Length: With three levels of adjustable side length adjustments, this model makes it possible to be comfortable used by users of varying heights and strides. In addition, the adjustable stride length allows the user to target different muscle groups or to otherwise add variety to the workout routine. Possible stride lengths include 18, 20 and 23 inches. Whether you walk, jog or run, the adjustable stride lengths allow you to choose the length that is comfortable for you. This model also features oversize foot pedals, further helping to ensure comfort for users of all sizes and strides.
Zero Impact: By eliminating the roller-and-rail design that is common in older elliptical machines, this model provides a low-impact workout designed to save your joints and tendons. With its dual-spindle technology, the machine is able to mimic your natural running motion, while the floating pedals create a smooth experience. Overall, the zero friction technology makes your workout both smoother and more stable while the ergonomic swing arms help to maximize stability while matching your natural running stride.
Compact Design: Offering a compact, lightweight design, this model is easy to move from place to place. Weighing just 144 pounds, this model is lighter and smaller than other leading models in the industry. In fact, it is half the weight of other elliptical machines in its class. This is due, in part, to the fact that the standard flywheel technology has been replaced with the less cumbersome Magnetic Resistance technology. Not only does this reduce weight, but also provides the user with more control. With a footprint that is 35 percent smaller than the industry standard, this model will not take up a lot of space in your home gym or living room. Thanks to the machine's lack of rollers or rails, it offers a smaller overall footprint while also eliminating the need for rail maintenance and lubrication. With the bulky incline motor assembly being replaced by a combination of Magnetic Resistance and adjustable stride, the machine is also more effective and targeting upper and lower body muscle groups. This model also has a low step-up height of just 6.7 inches, making it easy to get on and off of the machine.
LCD Console: The easy-to-read, dual-color LCD console with backlit display makes it easy for you to monitor a variety of areas during your workout. These include Watts, heart rate, distance, calories, speed, Basal Metabolic Rate and RPMs. The innovative PULSE RECOVERY feature also allows you to measure how quickly you return to your resting heart rate following your workout, while the build-in Polar wireless heart rate receiver allows you to receive continual heart rate feedback throughout your workout time. The console area also features a tablet holder, which allows you to access the Internet, watch videos or check emails while working out.
Programming Flexibility: This model features 12 pre-programmed workouts and comes complete with a free Polar Heart Rate Chest Strap in addition to the built-in hand pulse sensors for continual heart rate monitoring. With this model, you enjoy the flexibility of choosing between manual mode as well as eight preset programs, four heart rate controlled programs and four custom programs. Custom workouts can be designed to maintain a target heart rate, build muscle, burn fat, change terrain or any combination of these features.
Important Specs for the Diamondback Fitness 1060ef Elliptical
The Diamondback Fitness 1060ef Elliptical measures 49.2 inches long29.5 inches wide and 65 inches tall when assembled. While the shipping weight is 157 pounds, the machine itself weighs just 144 pounds. This model is designed for users weighing up to 300 pounds and ranging in height from 5 foot 2 inches to 6 foot 6 inches. This is made possible in part by the triangular frame geometry, which increases weight capacity and provides increased frame strength. Other features include adjustable floor levelers on the front and rear stabilizers as well as easy-transport wheels on the front stabilizer.
As with all products within the Diamondback Fitness family of exercise machines, this model comes backed by a lifetime (five years) warranty on the frame and brake. The warranty also covers parts and electronics for three years, labor for 1 year and wear items for 90 days. Wear items include things such as foam grips, foam foot pad inserts and pedal straps.
Diamondback Fitness 1060ef Elliptical Summary
Sturdy, quite and great for locations with a low ceiling, this model offers a number of high-end features and a reasonable price. Capable of being assembled in less than an hour, the size and weight of this machine make it easy to move from one room to another. With its two-stage drive system and Poly-V belt, the machine mimics natural running movements while also reducing stress on joints and tendons. Meanwhile, the whisper quiet magnetic resistance creates a more precise machine that is capable of adjusting workout intensity without interrupting the flow of your workout.
Boasting a double-row of commercial-grade ball bearings to create smooth, fluid movement and durable steel handlebars with high-density foam grips and multiple holding positions, it is easy to see why so many customers are pleased with the Diamondback Fitness 1060ef Elliptical. "Well made," "easy to assemble" and "great machine" are just a few of the words that customers have used to describe this model, while others have further noted that Diamondback offers "great customer service" and that the machine's "motion feels smooth and doesn't hurt my knees." Read below to see more of what real life customers have to say about this great machine.
Diamondback Fitness 1060ef Reviews
1060ef Adjustable Stride Elliptical Trainer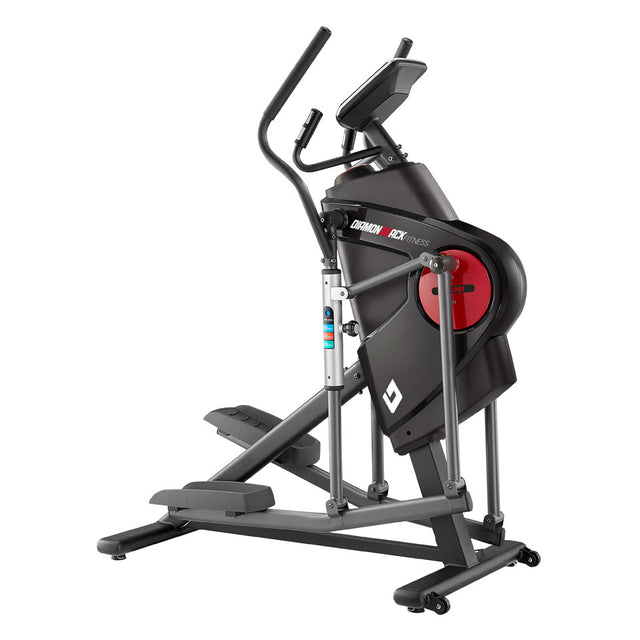 SAVE 25% + FREE Shipping & Assembly!
End of Summer Sale: $999.99

$1,549.98