Diamondback Fitness 1260Ef Reviews
Read verified customer reviews for the Diamondback Fitness 1260Ef Elliptical Trainer below!
Rated Best Buy by the leading consumer magazine every year since 2010, the Diamondback 1260Ef offers a superior calorie-burning workout that simultaneously sculpts and tones your lower and upper body. By giving your natural metabolism a boost while engaging your cardiovascular system, the elliptical offers a well-rounded workout that engages nearly every part of your body.
Why Buy a Diamondback Fitness 1260Ef
The Diamondback Fitness 1260Ef Elliptical has a number of features that make it unique and offer great benefits to those who wish to improve their fitness. Some of the greatest benefits this model has to offer include:
Magnetically Controlled Braking System: This unique system helps to create a low-impact workout that helps reduce stress on your knees or joints. Since it creates less stress than waling or running, it is good option for those in need of physical therapy or rehabilitation. It is also a great choice for the elderly or anyone who simply wants to get a quality workout without putting undue stress on the knees or joints.
Innovative Workout Console: The helpful workout console provides real-time information on an easy-to-read LED dot matrix screen with alphanumeric dot matrix display. Information displayed on the screen includes segment time, incline, percent of maximum heart rate, heart rate, calories, calories per minute, pulse, speed, distance, RPM and watts.
Built-In Programs: A number of built-in programs are included with this elliptical, including built-in warm and cool down modes. Among the available programs are 5 classic workout programs, 3 cross-training programs, and 5 heart rate interactive programs. With the help of the 5 heart rate interactive programs, you can stay within your target heart rate in order to enjoy the maximum benefits from your workout. To assist with this process, this model comes complete with a contact and Polar compatible wireless receiver with a chest strap. Meanwhile, the present profile programs are designed to train specific muscle groups so you can achieve your body training goals.
Multiple Adjustment Options: This model allows 10 ellipses angle electronic adjustments ranging from 7 to 28 degrees. It also offers 20 levels of intensity, which assists with creating the best workout possible to meet the individual needs of each user.
Comfort Features: In addition to reducing the amount of stress that is put on your body during your workout, this elliptical offers a number of additional features to help increase your comfort while you work out. Among these is a reading rack, on which you can place a magazine or book to read while working out. It also features Krayton rubber comfort grips. This model also offers a low step-up to the pedals, making it easier to mount while also keeping you closer to the ground as you work out. As a front drive elliptical trainer, its pedals are also spaced closer together for additional comfort. This is particularly helpful for those who are below average height and may otherwise struggle to access the pedals properly.
Diamondback Fitness 1260Ef Important Specs
The Diamondback Fitness 1260Ef boasts a 19-inch stride with an electronic programmable incline. Measuring 69.5 feet long, 27.5 feet wide and 65 feet high, it offers a relatively small footprint for any home gym. Made with a welded heavy-duty gauge still frame and with a maximum user weight capacity of 325 pounds, the elliptical itself weighs 245 pounds. This model also boasts a 25 to 130 SPM step rate, a 20 to 130 RPM pedal rate and a 20 to 700 watts resistance range.
Featuring enclosed bearings and soft polymer rollers that smoothly glide on steel rails, this elliptical is designed for lifetime use. As is the case with all ellipticals from Diamondback Fitness, this elliptical comes backed by a lifetime limited warranty on the frame and brake as well as a 3-year warranty on parts and electronics, a 1-year warranty on labor and a 90-day warranty on wear items. It is also backed by a 30-day money back guarantee if you are not completely satisfied for any reason.
Diamondback Fitness 1260Ef Summary
As a low-impact workout option, this elliptical is a great option for maintaining or improving your level of fitness and overall health. By stimulating the body's natural walking motion, it provides a natural and comfortable feel while still creating an excellent exercise experience. With the ability to control the intensity of your workout by the level of your heart rate, this model is a great choice for everyone ranging from the beginner to the professional athletes looking for a way to maximize the workout.
Diamondback Fitness 1260Ef Reviews
1260Ef Elliptical Trainer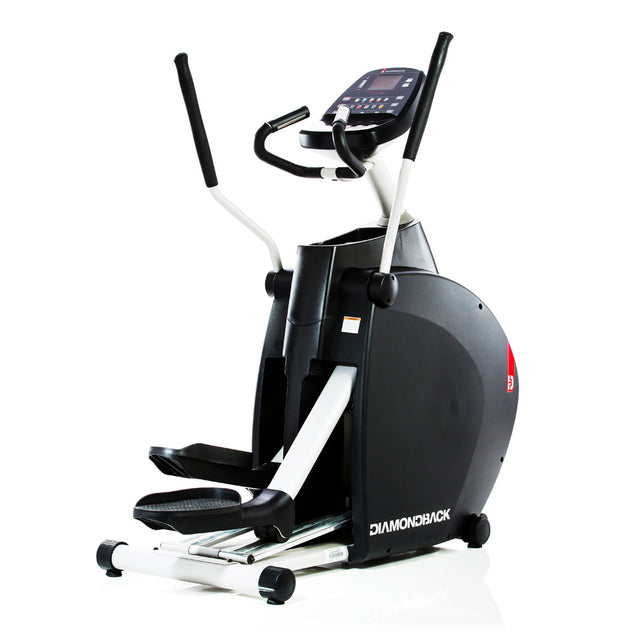 Save $700.00
End of Summer Sale: $1,999.99

$2,699.99