Diamondback Fitness 1260sc Reviews
Introduced to the Diamondback Fitness award-winning family of indoor cycle products in 2019, the Diamondback Fitness 1260sc Rear Wheal Studio Cycle was built on a legacy of performance from the ground up. While maintaining the same level of quality and standards expected from this family of indoor cycles, the 1260sc offers new and exciting features that elevate it to the next level.
Why Buy a Diamondback Fitness 1260sc?
The Diamondback Fitness 1260sc offers a number of benefits that make it stand out from the competition. Some of these key features include:
Rear-Mounted Flywheel: With its heavy-duty, 31-pound, rear-mounted magnetic resistance flywheel, the machine is able to offer a smooth workout that is free from vibration and unnecessary sound. At the same time, the technology increases the longevity of the machine by helping to prevent sweat and other moisture from dripping in and corroding metal parts during your workout.
Magnetic Resistance: The rear-mounted flywheel is propelled by a belt drive system that is precision controlled with the Click & Adjust dual magnetic resistance system. By simply flipping a lever, you can access 16 levels of resistance in order to create the workout that is best for you and your fitness goals. From downhill rides to uphill climbs and everything in between, this cycle meets you where you are at with your fitness level and allows you the room to grow.
Customization: With this studio cycle, you are in complete control of your workout and your riding experience. In addition to offering quick adjust features that allow you to change the settings quickly and easily, you can also create custom rider settings for seat height, handlebar height, saddle fore/aft positioning and handlebar fore/aft positioning. The handlebar configuration option also allows you to set different riding height levels, making the machine simple and easy to use for multiple riders of varying sizes and heights in your household. The multi-position handlebars also allow you to target different muscle groups while training. With the help of the versatile pedals, you can also choose between standard or SPD clipless pedals with the flip of the pedal, allowing you to enjoy the riding experience you are looking for. At the same time, the three-piece heavy-duty crank helps to ensure a smooth and reliable pedaling experience while also minimizing the number of moving parts.
Digital Console with WATT Technology: Thanks to the digital console, you can easily monitor your performance as well as your progress. The digital ANT+ compatible console is capable of pairing with any apps and wearable technology that is ANT+ or BLE FTMS compatible. This ensures you get the data you want and where you want it, whether you wish to sync with a fitness watch, a heart rate monitor or other popular activity monitors such as those provided by Garmin and Wahoo. The console is also able to link to Apple IOS and Android products, thereby enabling third party apps such as SPIVI, Rouvy, Zwift and Myzone to sync with the machine. The console also boasts WATT output technology, allowing you to see how much force you're putting through each pedal revolution. The console also tracks and displays a variety of essential workout details, including distance, time, RPM, calories, load and heart rate. With the help of the ANT+ Wireless Heart Rate receiver that comes included with the machine, you can easily keep track of your target heart rate and make adjustments to your workout intensity as necessary.
Self-Generating Power: Featuring the ability to self-generate power, this machine utilizes cordless technology to provide the power needed to keep it operational. Thanks to this innovative design, you use easily use the cycle indoors or outdoors, which means you can enjoy a nice day on your patio while still getting in your exercise for the day.
Important Specs for the Diamondback Fitness 1260sc
The Diamondback Fitness 1260sc Studio Cycle measures 59 inches long, 23 inches wide and 50 inches high. While the shipping weight is 147 pounds, the machine itself weighs just 130 pounds and offers a weight capacity of up to 300 pounds. This studio cycle accommodates users ranging in height from 5 feet 2 inches to 6 feet 5 inches.
Some additional features of the cycle include its high-density foam saddle for extra cushioning along with a spring assist frame to offer extra support even at the edges of the seat. Thanks to the easy lift handle and dual transport wheels, the machine is also easy to move from one place to the next. For added convenience, the cycle also includes a built-in water bottle cage and storage compartment.
Thanks to the heavy-duty pedal crank and reduction in working parts, this machine is virtually bulletproof from failure.
As is the case with all products available from Diamondback Fitness, this studio cycle comes backed with a lifetime limited warranty on the frame and brake that is valid for five years. Parts and electronics are covered for three years while labor is covered for one. Wear items such as rubber and foam grips, foam foot pad inserts and pedal straps are covered for 90 days.
Diamondback Fitness 1260sc Summary
Easy to set up with a stable build and solid construction, this machine is the perfect choice for anyone in need of a studio cycle that can be used both indoors and out. With its wireless self-generating power, the machine can be used virtually anywhere that you choose to workout. This also means you don't have to worry about tripping over cords or dealing with unnecessary obstructions caused by cords. With 16 levels of resistance that can be easily adjusted with a lever, it is easy to see why customers refer to this bike as simply being an "excellent product". Furthermore, thanks to the advanced technology, customers report that the bike is "very quiet at speed" and yet it "feels just like riding my road bike". With "so many options and adjustments" available on this machine, it is easy to see why at least one customer reported that "It exceeded my expectations and provided as much of a workout that you could ever want".
Diamondback Fitness 1260sc Reviews
1260sc Rear Wheel Studio Cycle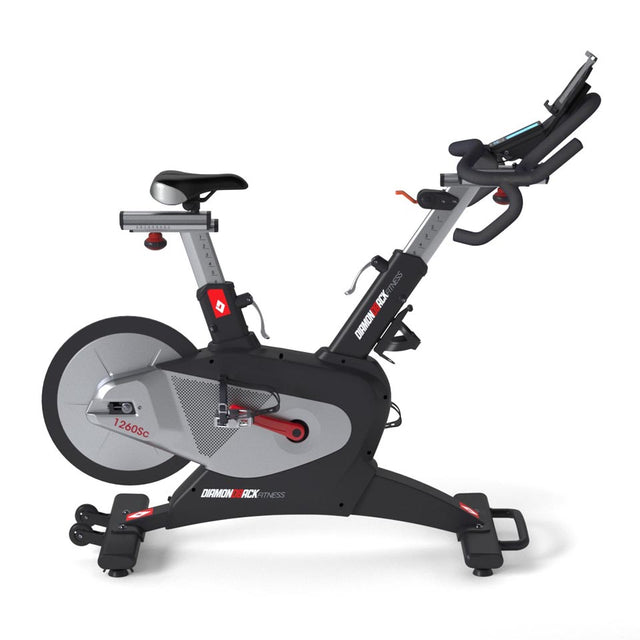 SAVE $500 + FREE Shipping!
Black Friday Sale: $999.99

$1,499.99