Diamondback Fitness 1260ub Reviews
Providing excellent exercise opportunities for users of all fitness levels, the Diamondback Fitness 1260ub Upright Bike is perfect for novice users who are ready to make some changes to their health and lifestyle. The innovative design stays true to the reputation and legacy of Diamondback Fitness while also incorporating the latest advancements in exercise equipment technology.
Why Buy a Diamondback Fitness 1260ub Upright Bike
Offering a natural and comfortable riding position combined with modern aesthetic, the Diamondback Fitness 1260ub Upright Bike offers a number of features that make it highly regarded within the industry. Some of these features include:
Comfort: Featuring a light commercial design and a convenient step-through frame, this bike allows you to easily step through the frame so you do not have to lift your foot over the frame in order to get into the riding position. The unique design also helps to ensure you never lose your balance while using the machine. To further assist with comfort, the entire riding geometry of this machine has been designed and engineered to include the most comfortable seat, pedals and handlebars in its class. The bike is also designed to suit the needs of users of varying heights and body types. The quick adjust handle allows you to easily slide the seat fore and aft to accommodate different heights or to help target different muscle groups. Meanwhile, certain creature comforts are also integrated into the design, such as the two cup holders located on either side of the seat to hold your water within easy distance.
Controllable Trainer: Featuring a WATT-enabled controllable smart trainer, this bike is able to automatically vary the resistance in order to match the changing intensity levels of your workout program. In this way, you can remain focused on your workout without worrying about being interrupted in order to manually change the resistance level. Meanwhile, the user-friendly LED console also tracks, displays and saves your essential workout data. Items tracked and displayed include WATT output, distance, time, RPM, calories, speed, load and heart rate. Meanwhile, the LED display tracks and stores information for up to four user profiles, allowing you to change users and obtain their preferred settings with just the push of a button.
A Variety of Workout Programs: Boasting 15 workout programs, this machine allows users to select from 12 preset programs as well as heart-rate-controlled training, unlimited custom user programs, WATT, fitness test and more. The scrolling message center on the LED screen will help to guide you through program set-up and adjustment levels.
Connectivity: With its Bluetooth audio speakers, this machine allows you to easily connect your iPad, iPod, iPhone or other mp3 device to listen to your favorite tunes while you work out. Thanks to the built-in USB charger, you can also easily charge your tablet or smart phone throughout your workout session. The bike itself also includes handlebar mounted heart rate sensors to allow for intermittent heart rate tracking. The bike also features a tablet and smart phone holder so you can access the Internet, watch videos or check emails while working out. In addition, this upright bike also features an integrated Polar heart rate receive, which can be used with the Polar T31 or T34 wireless heart rate strap to track your heart rate data and help you to reach and maintain your optimal training zone. If the wireless heart rate strap is not what you want, this machine also comes equipped with heart-rate contact sensors on the handles. This allows you to monitor your heart rate from any riding position on the bike.
Magnetic Resistance: With 32 levels of magnetic resistance, this machine offers a wide range of resistance levels to meet the needs of a variety of users. The magnetic resistance technology also helps to create an ultra-smooth and whisper quiet riding experience, even when the bike is used at its higher levels of resistance. The one-click resistance dial makes it quick and easy for you to select or change your workout resistance levels at any time.
Important Specs for the Diamondback Fitness 1260ub Upright Bike
The Diamondback Fitness 1260ub Upright Bike measures 48 inches long, 24 inches wide and 61 inches tall. The shipping weight of the machine is 121, but the weight of the actual machine is just 106 pounds. Despite its light weight, the machine is capable of accommodating users weighing up to 350 pounds. Thanks to the ability to adjust the saddle with both fore and aft adjustments, it is also capable of accommodating users ranging in height from 5 feet 3 inches to 6 feet 7 inches.
As with all Diamondback Fitness products, this upbright bike comes backed by a lifetime limited warranty on the frame and brake that is valid for five years. Parts and electronics are covered by the warranty for three years while labor is covered for one. Wear items are covered by the warranty for 90 days, with these items including things such as rubber and foam grips, foam foot pad inserts and pedal straps.
Diamondback Fitness 1260ub Upright Bike Summary
Designed with the novice in mind, the Diamondback Fitness 1260ub Upright Bike offers the safety features and creature comforts needed to help get you started on a regular workout routine. With its multiple programs and 32 levels of resistance, this is a piece of equipment that will grow with you as you reach your health and fitness goals.
In addition to complimenting the appearance of the bike, customers find that the machine is "easy to use," staging that it is "easy to get on and off" and noting that the "riding position is so natural". At least one customer found that this upright bike offered "a great way to get a workout without hurting my knees or back". As such, this bike is a great match for anyone who may be going through rehab or who may otherwise have a physical condition that can make it difficult to work out on a regular basis.
Diamondback Fitness 1260ub Reviews
1260ub Upright Magnetic Exercise Bike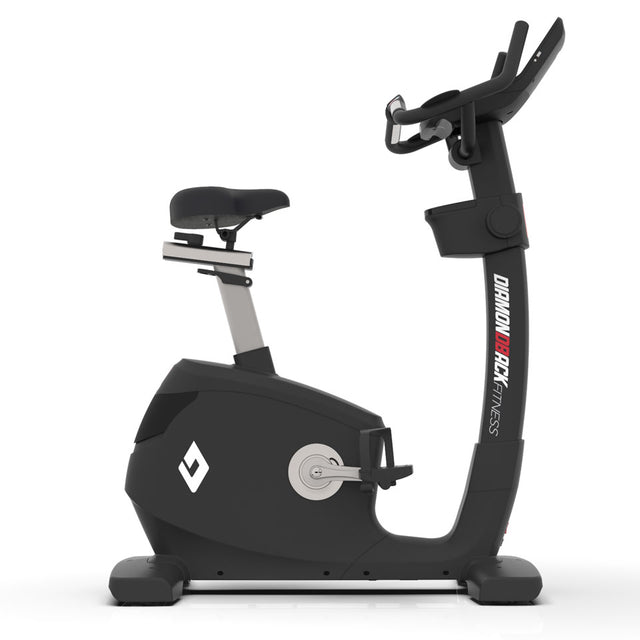 SAVE 35% + FREE Shipping!
Black Friday Sale: $799.99

$1,230.77