Diamondback Fitness 1280ef Reviews
The Diamondback Fitness 1280ef Elliptical continues the designs and traditions that have made Diamondback elliptical machines so highly regarded in the industry. At the same time, it incorporates the latest innovations in exercise equipment technology, bringing the latest in fitness to those who are looking for a high-quality piece of workout equipment to add to their home gym and workout routine.
Why Buy Diamondback Fitness 1280ef Elliptical
The Diamondback Fitness 1280ef Elliptical offers a variety of features that help it to stand out from the competition. Some of these features include:
Space Saving Design: The lightweight, space saving design makes it possible for you to use and store your elliptical machine in smaller places than ever before. In fact, this model is one of the most safe-saving elliptical machines available on the market today. Not only is it about half the weight of other elliptical machines in its class, but the standard incline motor assembly has been replaced with a far less bulky combination of adjustable stride and magnetic resistance. Similarly, the cumbersome flywheel has been replaced with innovative magnetic resistance. In addition to taking up less space, this combination is also more effective at targeting upper and lower body muscle groups while offering more precise control of the machine.
Adjustable Stride Lengths: With its adjustable stride lengths, this elliptical machine can be easily used by users of different heights in order to allow them to hit the most comfortable stride possible. In addition, strides can be adjusted in order to assist with targeting different muscle groups as a part of your workout routine. The stride lengths with this machine can be adjusted to either 17 inches or 22 inches.
Variety of Workout Programs: With 16 levels of magnetic resistance and 12 pre-programmed workouts, you can develop the workout routine that best suits your fitness level and goals. With the Quick Start feature, you can even step on and start your workout immediately within nothing but the push of a button. Meanwhile, the wireless heart receiver also allows you to monitor your heart rate and ensure you are working out within your target heart rate zone. You have the option of choosing between manual mode, heart rate controlled programs, preset programs or custom programs offering 15 levels of resistance. The Pulse Recovery feature will also measure how quickly you return to your resting heart rate following each workout session, allowing you to more effectively monitor the improvement in your cardio health. For even more effective monitoring, you can track your heart rate nonstop with the help of the Polar wireless heart rate receiver. While the machine does have contact sensors on the handlebars, the wireless receiver allows for nonstop heart rate tracking without needing to touch the contact sensors. The receiver is compatible with the T31/T34 non-coded Polar heart rate strap, which is not included with this elliptical machine.
10" Digital Touch Screen Display: The 10-inch digital touch screen display allows you to quickly and easily access all of the programs available with this machine while also making adjustments to the level of resistance as desired. As part of this great technology, you can also watch your favorite videos, listen to music or even connect to mapping software from your favorite apps while working out. The touch screen display includes apps for Chrome, Netflix, Kinomap and iRoute, all of which can connect to with your home WiFi. Meanwhile, the user-friendly touch screen tracks, displays and saves workout data such as WATT output, distance, time, RPM, calories, speed, load, and heart rate. Meanwhile, the USB charging port allows you to keep your favorite devices fully charged and easily at hand.
Multi-Position Handlebar: The multi-position handlebar allows you to adjust the position of the machine's handlebars in order to find the most comfortable position or to help you with targeting specific muscle groups. Whether you want to target the upper or lower body, adjusting the handlebars will help you achieve your goals. The handlebars also feature high-density foam grips along with hand pulse sensors for continual heart-rate monitoring, while the high-density ABS rubber handles offer maximum durability and comfort.
Important Specs for the Diamondback Fitness 1280ef Elliptical
The Diamondback Fitness 1280ef Elliptical measures 50 inches long, 36 inches wide and 66 inches tall. While the shipping weight is 209 pounds, the actual product weighs just 187 pounds and has a user weight capacity of up to 350 pounds. Thanks to the adjustable strides lengths and the overall design of the machine, this elliptical is capable of accommodating users ranging in height from 5 feet 3 inches to 6 feet 5 inches tall. Capable of being assembled in just one hour, the machine features low step-up height for easy step-on and off.
As is the case with all equipment available from Diamondback Fitness, this elliptical machine is backed by an impressive warranty. This includes a lifetime limited warranty on the frame and brake that is good for five years. The machine is also backed by a three-year warranty on parts and electronics along with a one-year warranty on labor. Wear items, which include items such as pedal straps, rubber and foam grips and foam foot pad inserts, are covered by the warranty for 90 days.
Diamondback Fitness 1280ef Elliptical Summary
Boasting whisper quiet magnetic resistance, oversize foot pedals and a triangular frame geometry for ultimate frame strength, this elliptical machine is designed to be a long-lasting part of your home gym. With adjustable floor levelers on the front and stabilizers on the rear, the machine offers the optimum level of safety and comfort. Designed to meet your running stride without the use of rollers or rails, the machine leaves a smaller footprint without the need for rail maintenance and lubrication.
As a natural continuation of the Diamondback Fitness line of award-winning elliptical machines, it is easy to see why customers say things such as, "Wow! This is a great elliptical, it is very well built, the stride is buttery smooth." Meanwhile the touch screen console with WiFi access makes it so that "every minute exercising is entertaining," make this machine "a great elliptical for my daily workout".
Diamondback Fitness 1280ef Reviews
1280ef Adjustable Stride Elliptical Trainer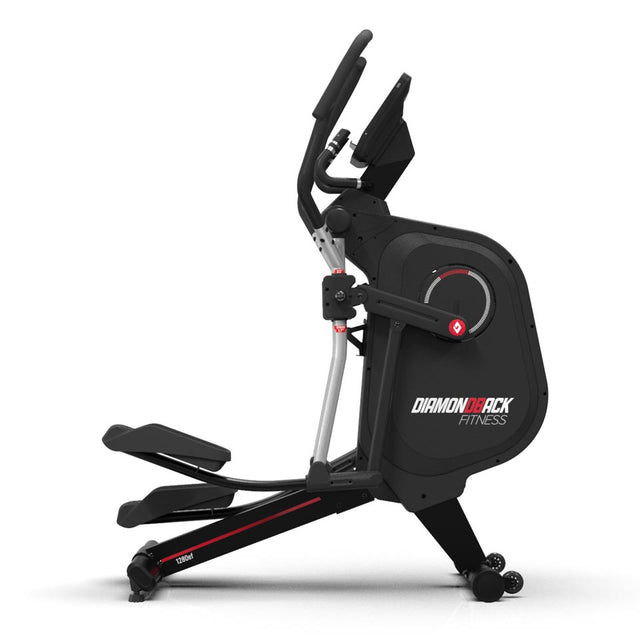 SAVE 35% + FREE Shipping!
End of Summer Sale: $999.99

$1,538.45