Diamondback Fitness 510Ic Reviews
Read verified customer reviews for the Diamondback Fitness 510Ic Upright Exercise Bike below!
Rated "Best Buy" by the leading Consumer Magazine, the 510Ic Indoor Cycle from Diamondback Fitness offers a number of desirable features. Among these are an extremely quiet belt drive technology, water bottle holder, the ability to customize the fit of the bike, 16 levels of resistance, 14 workout programs and a real time rider data display. As one of the lowest priced spin style bikes to offer a display console, it is also one of the few on the market to come equipped with preset workout programs.
Why Buy a Diamondback Fitness 510Ic
While there many reasons to choose the 510Ic model, here is a look at the top five reasons to consider this particular model:
Complete Customization: To assist with obtaining the proper fit, this model offers multiple adjustments options. Customized rider settings can be created for the saddle fore/aft positioning, seat height, handlebar fore/aft positioning and the handlebar height. The multi-position handlebars come complete with soft foam covering for additional comfort. Meanwhile, the lever style adjustment system is quicker to use than conventional locking pins, making it a good choice if the bike is to be used by more than one person. With its pedal cages and adjustable toe clips, this model also ensures your feet are held securely in place for higher intensity workouts and to promote a more efficient transfer of force from the legs to the pedal crank system.
Computer Controlled Magnetic Resistance: With the touch of a button, you can adjust to 16 different levels of resistance with smooth transitioning between intensity levels. Since resistance is not chain controlled, it offers a much quieter ride than many other models.
14 Workout Programs: This model is one of the only models on the market to include preset workout programs. It comes equipped with 14 different workout programs, including 8 preset workouts, 4 heart rate controlled programs and the option to create a customized workout or to manually control the workout.
Real Time Rider Data: The bike's onboard computer provides real-time rider data, including distance, speed, profile, elapsed time and cadence, on a high contrast LCD screen. Heart rate is also monitored with the help of contact heart rate sensors built directly into the handlebars for added convenience and accuracy, thereby making it easier to stay within your target heart rate. The oversized console on which the data is displayed is designed to be easily read without needing to pause your workout or strain your neck.
Heavy-Duty Flywheel: With its 32-pound flywheel, this stationary bicycle is capable of creating momentum and simulating the way it feels to ride a regular road bike without creating an annoying whirring noise.
Important Specs for the Diamondback Fitness 510Ic
With its onboard computer and other high-end features, the 510Ic requires an 110v power source to operate. Measuring 42 inches long, 23 inches wide and 46 inches high and weighing 104 pounds, this model has a relatively small footprint that allows it to be used in virtually any home workout space. At the same time, the hefty weight ensures the bike remains steady even during the most energetic workouts.
Constructed from a heavy-duty steel frame, this durable model will not flex and bend over time. It is also capable of accommodating a maximum user weight of up to 300 pounds, making it a good option for those who are overweight and wish to get into better shape. Having a high maximum weight capacity also helps to enhance the bike's overall durability and longevity through normal use. As with all exercise bikes from Diamondback Fitness, this model comes backed by a lifetime limited warranty on the frame and brakes, a three-year warranty on the parts and electronics, a one-year warranty on labor and a 90-day warranty on wear items.
Diamondback Fitness 510Ic Summary
With its custom graphics providing a contemporary design and its numerous other customizable features, the 501Ic offers a good workout for people of all ability and fitness levels. Known for having one of the best workout monitors among indoor cycles, the bright and easy-to-read LCD screen helps keep the user informed and capable of getting the best workout possible. Meanwhile, thanks to the great design, extensive padding and ability to fully customized the bike, this particular model is known as being one of the most comfortable on the market.
Diamondback Fitness 510Ic Reviews
510ic Indoor Cycle Magnetic Trainer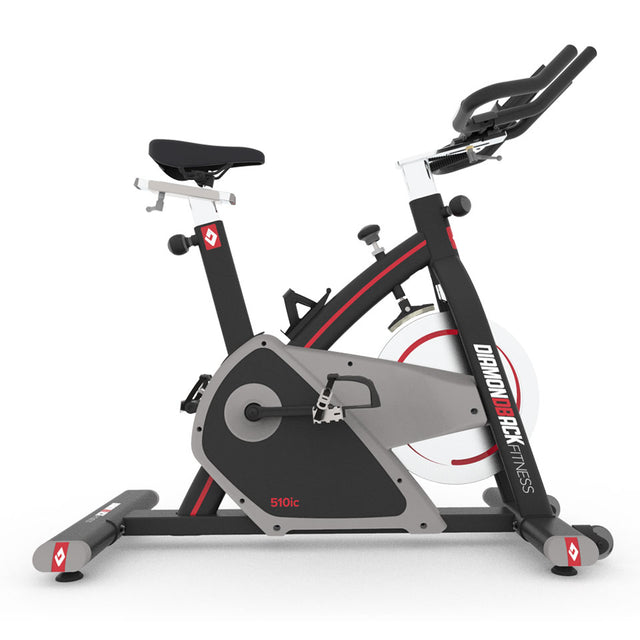 SAVE 35% + FREE Shipping!
End of Summer Sale: $499.99

$769.22