Diamondback Fitness 910Ic Reviews
Read verified customer reviews for the Diamondback Fitness 910Ic Upright Exercise Bike below!
Offering you the pinnacle of indoor cycling design and technology, the Diamondback Fitness 910Ic Indoor Cycle boasts top notch technology along with the ability to fully customize to suit your needs. With its one-of-a-kind design, this bike will motivate and challenge you to move your fitness to the next level. Boasting a self-generating electronic resistance system, this bike can easily be used in your home gym or taken outside to your back deck or patio to enjoy a great workout. With all that it has to offer, it is no surprise that this model is frequently referred to as "the indoor cycle with a brain."
Why Buy a Diamondback Fitness 910Ic
The Diamondback Fitness 910Ic Indoor Cycle offers a number of benefits that make it stand out from other bikes on the market. Among these are:
Full Customization: This model offers a number of adjustment options, making it possible to fully customize for each individual user. This includes having up/down and fore/aft adjustments for the seats and handlebars so the bike can be setup for different body sizes. Multi-position handlebars are also ideal for modifying body positions while training to help with targeting various muscle groups. Meanwhile, the unique lever style adjustment handles make it easier to make the necessary adjustments.
Smooth Riding: With its heavy-duty drive train, 40-pound flywheel and computer-controlled magnetic resistance, this model offers a smooth roll while inertia helps to give it the real road feel. The heavy-duty wheel makes it possible to build up momentum so you can recreate the high rpm training techniques that are typically used by outdoor cyclists and indoor studio cycling enthusiasts. With the heavy-duty pedal cranks, you can also achieve the performance you need for a high-intensity workout while the computer controlled magnetic resistance system allows for resistance control with the touch of a button just like changing gears on a road bike.
Preprogrammed Workouts: This model boasts the Diamondback Fitness Smart Trainer, making it the first indoor cycling system to offer 12 present workouts, 4 heart rate controlled programs and 32 levels of computer-controlled resistance. For added convenience, the workout program and resistance level can be easily modified with just the touch of a button. With these various programs, you can push yourself with different training techniques such as engaging in high rpm speeds while sitting or alternating with lower rpm sections and high resistance levels in a way that is similar to standing on a road bike while going up steep inclines.
Wireless Heartrate System: The built-in wireless heart rate controlled resistance system automatically adjusts the level of resistance based on your training goals. With four heart rate controlled programs from which to select, you can choose your own goal as you enjoy a workout within your target heart rate that will help melt the calories away.
Real Time Feedback: This model offers real-time feedback on a number of aspects that can help to motivate you while achieving your fitness goals. These include real-time feedback on calories burned, miles traveled, speed and time. You can also monitor the resistance changes taking place while using one of the preprogrammed riding courses.
Important Specs for the Diamondback Fitness 910Ic
The Diamondback Fitness 910Ic Indoor Cycle measures 42 inches long, 23 inches wide and 46 inches high and boasts a built-in water bottle cage and storage compartment. Weighing 135 pounds, the bike offers a maximum user weight capacity of 325 pounds. For added convenience, the bike also features a tray that can be used to hold a mp3 player and other small items while you workout.
With its gym quality components and electronics, this bike is built to require zero maintenance. As with all exercise bikes manufactured by Diamondback Fitness, the 910Ic comes backed by a lifetime limited warranty on the frame and brake, a three-year warranty on parts and electronics, a one-year warranty on labor and a 90-day warranty on wear items. It is also backed by a 30-day money back guarantee if you are not completely satisfied with your purchase.
Diamondback Fitness 910Ic Summary
Offering a seemingly endless number of workout programs and resistance options, this indoor cycle is an excellent option for anyone who wants to maintain their fitness level or push their level of fitness to the next level. With a number of adjustment options and a heavy-duty 40-pound flywheel, this model mimics the feel of a road bike while offering the flexibility necessary to be used by multiple users.
Diamondback Fitness 910Ic Reviews
910ic Indoor Cycle Magnetic Trainer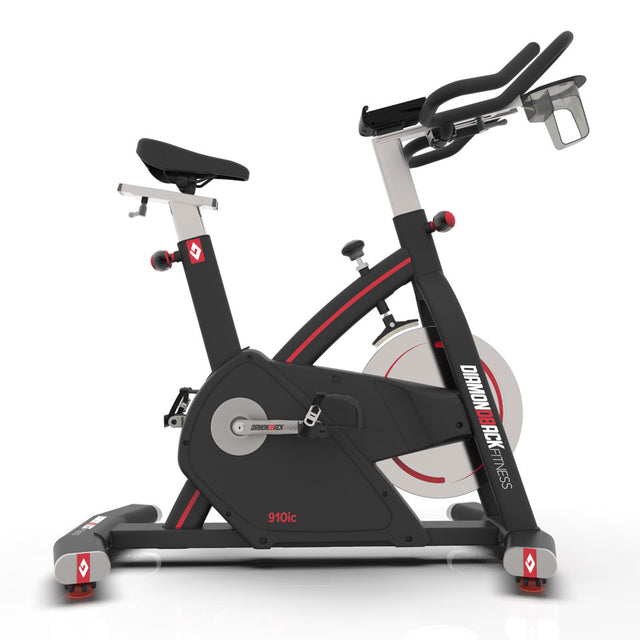 SAVE 35% + FREE Shipping!
End of Summer Sale: $599.99

$923.08