Diamondback Fitness 910Sr Reviews
Read verified customer reviews for the Diamondback Fitness 910Sr Recumbent Exercise Bike below!
Offering a number of program options and the ability to be adjusted to suit multiple users, the Diamondback Fitness 910Sr Recumbent Bike keeps your body in a perfectly ergonomic position that helps to minimize stress on your lower back. By evenly distributing your weight, you can enjoy a more comfortable workout without experiencing aches and pains caused by bad posture. This makes this bike the ideal choice for anyone who may already suffer from back problems, for seniors or others who simply want to enjoy a more comfortable workout.
Why Buy a Diamondback Fitness 910Sr
The Diamondback Fitness 910Sr Recumbent Bike offers a number of desirable features that make it stand out from other bikes on the market. Some of the greatest benefits this model has to offer include:
Multiple Adjustment Options: This model offers a number of adjustment options to help increase comfort and performance. Among these are fore and aft saddle positions as well as a vertical back and console that can be adjusted for different viewing angles. The toe straps are also adjustable, allowing you to be comfortably engaged throughout your workout. The cushioned armrests allow for additional comfort while using the bike.
Numerous Program Options: After completing a built-in fitness test to determine your fitness level and the most appropriate place to begin your training, you can select from 32 available programs and 32 levels of resistance. For added conveniences, all of these programs are available with just the touch of a button through the unique QuickSet one touch program. The micro-pixel scrolling message center on a bright blue LCD screen helps to guide you through the process of setting up your program.
Heart Rate Training: The advanced technology found in this model monitors your heart rate training zones and displays your progress on the workout console through the built-in heart rate receiver. Monitoring is made simple with the convenient contact sensor, which provides nonstop heart rate tracking. This model also features a built-in Polar wireless heart rate receiver that allows you to wear a matching Polar heart rate strap for continual heart rate feedback.
Creature Comforts: To help make your workout more enjoyable, this model comes complete with a number of creature comforts. Among these is a water bottle holder and an integrated smart fan that cools you down and adjusts its speed based on your workout intensity. This model also boasts onboard speakers and a music source input for your mp3 player, allowing you to listen to your favorite tunes as you work out. If you prefer reading, this model also features a foldout magazine rack to hold reading material as you work out. Once done with your workout, the rack easily folds back away.
Smooth, Quiet Ride: Boasting an advanced, frictionless eddy brake system, this model does not produce screechy sounds or require loud fans or clunky clutches. With its smooth, quiet ride, you get a more enjoyable workout without worrying about disturbing others in the room or needlessly turning up the volume on your television or mp3 player.
Important Specs for the Diamondback Fitness 910Sr
Designed to comfortably fit users between 5'2" and 6'3", this bike is suitable for most users. Measuring 64 inches long, 23 inches wide and 50 inches high, the bike has a weight of 130 pounds with a maximum weight capacity of 325 pounds. This model also boasts a numeric keypad, which offers quick and easy access to entering additional workout data.
With its solid steel magnetic flywheel and steel-crafted components, this bike offers exceptional durability. As is the case with all bikes sold by Diamondback Fitness, this model comes backed by a five-year limited warranty on the frame and brake. It is also backed by a three-year warranty on parts and electronics as well as a one-year warranty on labor and a 90-day warranty on wear items. It is also backed by a 30-day money back guarantee if you are not completely satisfied with your purchase for any reason.
Diamondback Fitness 910Sr Summary
With its creature comforts, numerous programs and the ability to be adjusted to suit user preferences, the 910Sr is a great option for anyone who is looking to improve their fitness or maintain their current fitness level. As a recumbent bike, this model offers added comfort for those who may be concerned about placing too much stress on their body. Yet, with 32 levels of resistance, it is a bike that can grow with you as you increase your physical strength and stamina.
Diamondback Fitness 910Sr Reviews
910sr Recumbent Magnetic Exercise Bike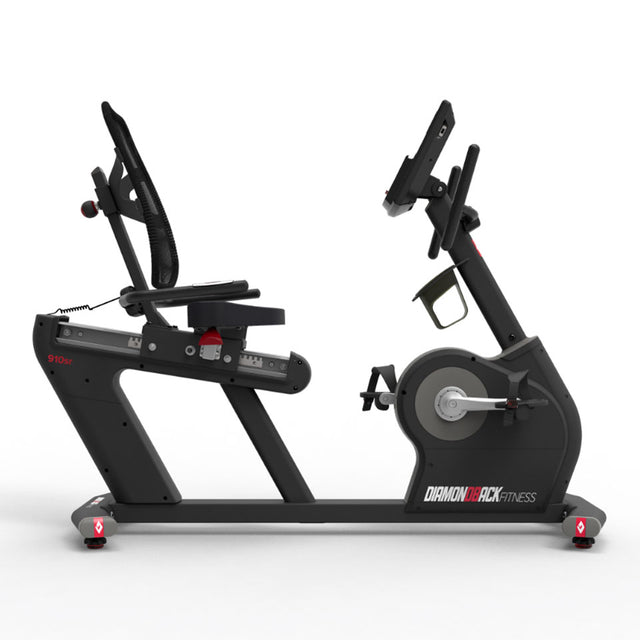 SAVE 35% + FREE Shipping!
End of Summer Sale: $799.99

$1,230.77